Week Four brings lots of new activity for the puppies, they are much more active and steady on their feet, and now munch their way through 4 meals a day and still of course have free access to their doting mum, Tuuli.  Their little teeth are now pushing through, and so they are chewing on toys and fingers and toes!
Peli is now an accepted visitor to the puppy pen, and it warms the heart to see the pups reaching through the bars of the pen to make contact with Peli and her to rain kisses on them all.
With the sun shining it is also time for the puppies to spend short periods of time outside, and so the house training starts, the opportunity to run around outside encourages the pups to toilet outside and stretch their legs and take in the fresh air.
Four weeks also heralds the arrival of the new puppy owners and the puppies get plenty of cuddles, its a tough job but someone has to do it!  It is certainly hard to resist them when they shower you with little kisses and those little tails wag incessantly.
The Feature photo for this news item is in fact a photo of Tuuli at 4 weeks of age – for comparison.  Check out Tuuli and her litter mates at 4 weeks of age 
To see bigger versions of the photos below simply click on the images
[one_fourth valign="top" animation="none"]
[box icon="paw" style="solid"]
"Smokey"
[/box]
[/one_fourth]
[one_fourth valign="top" animation="none"]
[box icon="paw" style="solid"]
"Four Paws"
[/box]
[/one_fourth]
[one_fourth valign="top" animation="none"]
[box icon="paw" style="solid"]
"Tippy"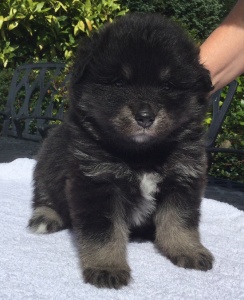 [/box]
[/one_fourth]
[one_fourth_last valign="top" animation="none"]
[box icon="paw" style="solid"]
"Girlie"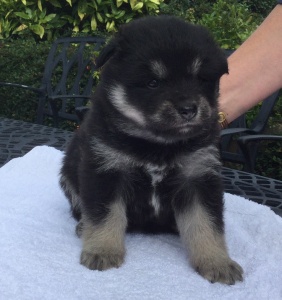 [/box]
[/one_fourth_last]
[one_fourth valign="top" animation="none"]
[box icon="paw" style="solid"]
"Diamond"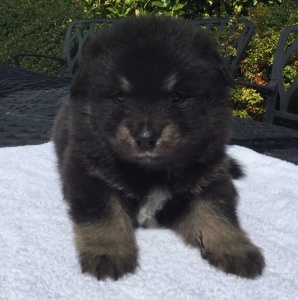 [/box]
[/one_fourth]
[one_fourth valign="top" animation="none"]
[box icon="paw" style="solid"]
"Ninja"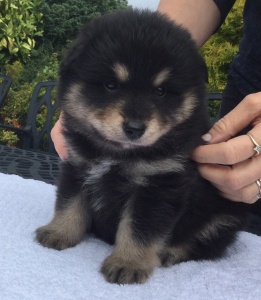 [/box]
[/one_fourth]
[one_fourth valign="top" animation="none"]
[box icon="paw" style="solid"]
"Trio"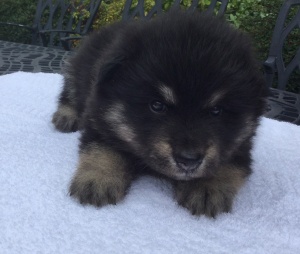 [/box]
[/one_fourth]