At the Finnish Lapphund Club of GB open show – we had an amazing day, culminating with Matka and Uka taking the top spots under Terry Munro.
Multi Champion Elbereth Matkamies ShCM started the day winning the veteran dog and the Good citizen dog classes and Lecibsin Ukas to Elbereth won Post graduate dog handled by Sam Moore.  Have to say Ukas seemed to finally get the show idea and was standing like a rock and showing his socks off.
In the dog challenge, Matkamies was awarded Best Dog, and Ukas reserve best dog.
Then the dastardly duo did the double taking BIS and RBIS
with Elbereth Apina to Pavoskas ShCM taking BOS veteran
Thank you to Sammy Critchlow for the photos
[carousel coin_nav="none" direction_nav="standard" autoplay="standard"]
[carousel_item]
Multi Ch Elbereth Matkamies ShCM – BIS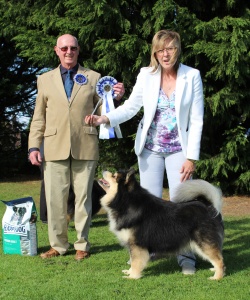 [/carousel_item]
[carousel_item]
RBIS – Lecibsin Ukas to Elbereth & BIS – Multi Ch Elbereth Matkamies ShCM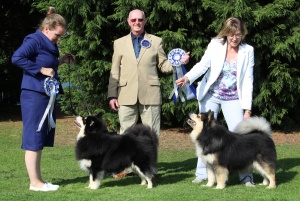 [/carousel_item]
[carousel_item]
The veterans
Elbereth Apina to Pavoskas ShCM & Multi Ch Elbereth Matkamies ShCM
[/carousel_item]
[/carousel]