[section background_repeat="repeat" background_position="center top" background_attachment="static" background_scroll="none"]
A pretty big milestone in a puppy's life – they suddenly seem to develop exponentially, and every day brings a new change.  They are much steadier on their feet, play with the toys/boxes/empty plastic bottles and each other – they now even help with the changing of the newspaper – well I think its called helping!!
Teeth are definitely showing and the needles are being put to good use – chewing the boxes and toys and the edges of the puppy pen!  Just waiting for the inevitable scream as a pup puts its teeth around a bar and then turns its head and momentarily is unable to extricate itself!
They enjoy cuddles now – and are more accommodating of the routine brushing and the weekly nail clipping.  The noise CD is played for their "enjoyment" daily plus of course they are experiencing the day to day noises of being in the centre of the home.
Halla is less interested in them now – often only standing for them to feed – and is really only interested to enter the puppy pen when she spies left over weaning meals!  They have moved on from Royal Canin puppy weaning mousse to soaked Royal Canin starter and beef mince.
In the growing race – they are pretty even – though Wolfie is pulling away from the girls slightly and at 4 weeks is just short of  2.5Kg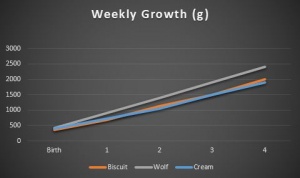 To view any image larger simply click on the image
[one_third valign="top" animation="none"]
[box icon="paw" style="simple"]
Creamy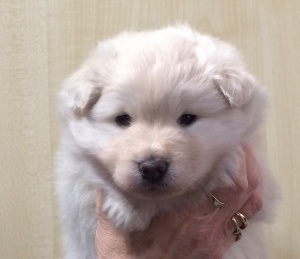 [/box]
[/one_third]
[one_third valign="top" animation="none"]
[box icon="paw" style="simple"]
Biscuit
[/box]
[/one_third]
[one_third_last valign="top" animation="none"]
[box icon="paw" style="simple"]
Wolfie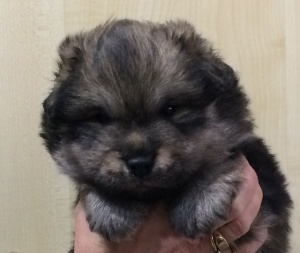 [/box]
[/one_third_last]
[/section]
[one_third valign="top" animation="none"]
[/one_third]