Before you know it the pups are proper little dogs, more stable on their feet, eating everything you put in front of them, and oh such waggy tails. This week they turned six weeks old and suddenly there were lots of new activities . More visitors and a return of the children, I just love watching puppies reacting to small people, lapphunds love all humans big or small.
Then there were the car rides – first a local trip to be microchipped – with Social distancing they were take off into vets by the vet nurse and had to be brave without me holding them, I gather the nurse got plenty of kisses and only wolfie squeaked when the chip was implanted.
Then a half hour ride to see Pia for one of Pia's famous photo shoots – the pups were in a strange garden, and in fact first time on grass and they did not bat an eye lid – they also got to see cats – although the cats are of course dog friendly so just sad and observed and the pups probably thought they were garden statues. Some super photos as ever – and just a few below (and no, the pups were not glued on the bench).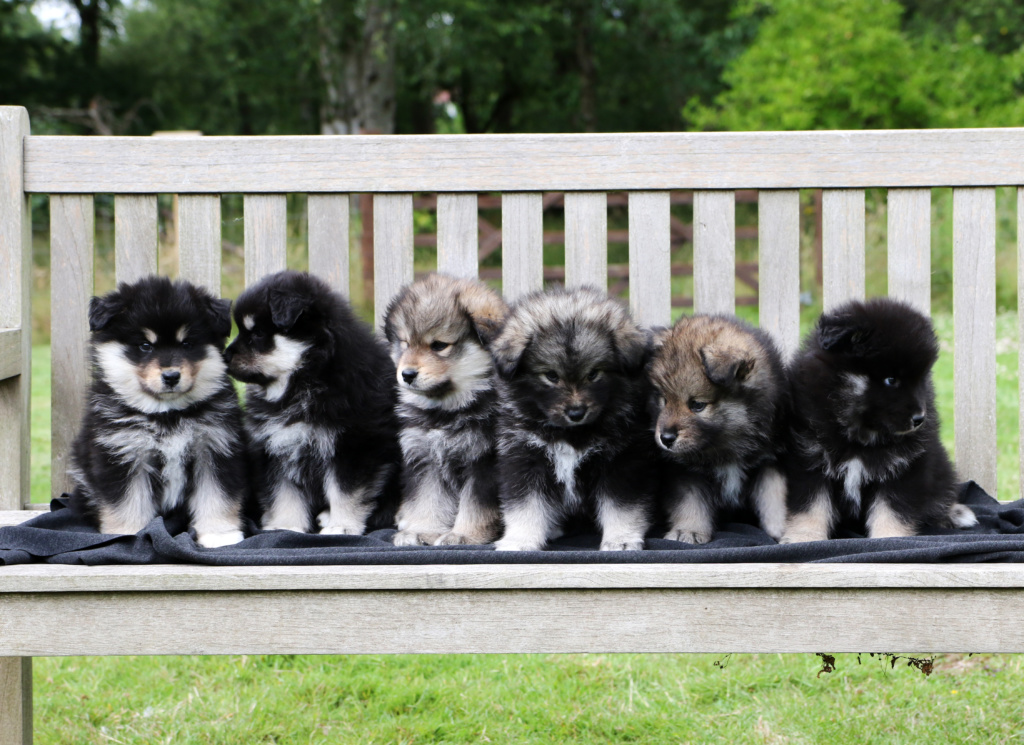 Finally on Sunday they had a one hour drive to Detling to have their eyes tested – no they do not have to read a chart on the wall. The specialist vet, James Oliver looks into the eyes after the pupils are fully dilated (using special eye drops) – not all breeders litter screen their pups, but given the breed can have congenital eye defects it is in my opinion a worthy exercise. Again because of social distancing the pups had to be handled by strangers – but the only risk was would I get my pups back as all fell head over heels in love with them. Pleased to report they all received the all clear.
As a treat they had a fresh whole duck neck between them – fun to watch the tug of war, gradually they managed to crunch their way through it.